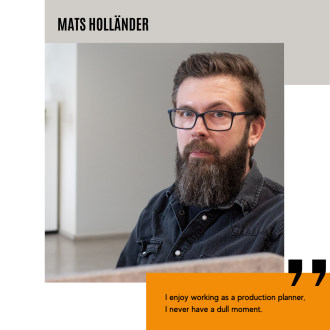 12.9.2022
Meet our production planner - Mats Holländer
Is Mats Holländer 26 years or has he been working at Keymet for 26 years? It's a tricky question, we know, but the answer is that he is one of our long-term employees.
- I started working at Keymet in 1996, then the company had a different name, but that is not the only thing that has change in almost three decades, Mats says smiling.
Some of the colleagues from back then are still working with Mats, but off course the main part of the staff has dropped in over the years.
Mats works as a production planner and enjoys his work as it is never monotonous. He orders material, handles quotations, and plans the workflow for the production.
His free time is occupied by his family of four children and his wife, but occasionally when he gets a moment for himself, he likes to listen to music, and let's just say it isn't in the classical genre.
Gå till "Ajankohtaista"