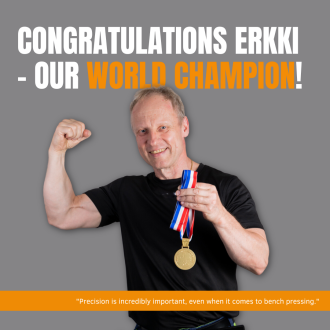 8.9.2023
Another EC gold for Jakobstad!
Our very own Erkki Rajala has done it again. In July, he surpassed his last EC gold and beat his own world record from last year during EC bench press in Mérignac, France.
When we listen to Erkki talk about the technicians in his sport, we understand all the more clearly why he chose bench pressing.
As a bench press competitor, just like a CNC operator, you must achieve and maintain incredible precision. The rules of the competition mean that even a slight heel lift from the floor leads to disqualification. Precision is incredibly important, even when it comes to bench pressing.
Erkki competes for the club Jakobstads Kraftsportare, a club with just over 20 competing members.
-We are constantly looking for new enthusiastic members, especially juniors are welcome to join!
For February, his sights are set on the Finnish championship, and depending on the result, he aims for the WC in Texas later on in the spring.
All colleagues here at Keymet are keeping their fingers crossed for our Erkki!
Siirry "Ajankohtaista"-sivulle