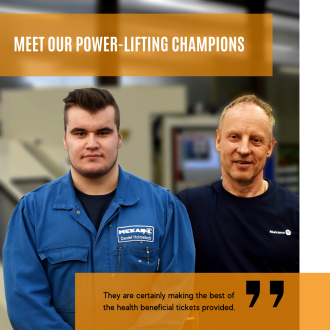 24.11.2022
Meet Keymets power-lifting team
Working in Finland, companies generally provide you with free "health-tickets". At Keymet we use an extended version named ePassi that provides you with different types of excersice or health-beneficial services such as training at the gym, swimming indoors or getting massages. In addition, it can also be used for cultural events
Then we have these guys, they are both competing in the sporting branch power-lifting and benchpress, they even won gold medals. They are certainly making the best of this benefit - in a very good way. We strive to help motivate our employees to take care of their physical and mental health in the best way possible!
Erkki took home the world champion title this August in benchpress(master 3 60-6am 9yr).
Daniel won the title Finnish junior champion 2021 in powerlifting.
Would you dare to challenge them in armwrestling?
Go back to "Ajankohtaista"