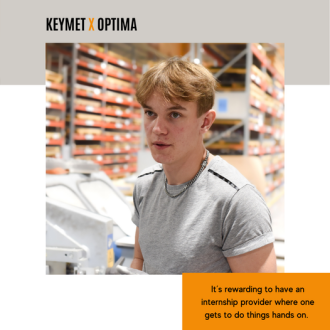 19.7.2022
Keymet X Optima
Ludvig Björkskog is studying at his second year at Optima. His major field of study is metalwork, and he is particularly interested in improving his skills on the CNC-milling machine. Young eager students fill our production hall a few times a year. We are cooperating closely with the vocational school Optima in Pietarsaari and gladly provide their students with internships.
- It's rewarding to have an internship provider where one gets to do things hands on. I will be here for six weeks and hopefully I will be a lot smarter as I leave, Ludvig says with a smile.

Giving new and upcoming metalworkers a fair and inspiring picture of the field is our great pleasure.
Go back to "Ajankohtaista"